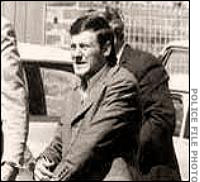 Archibald Beattie McCaffery
When it was announced on April 19, 1997, that serial killer Archibald "Mad Dog" Beattie McCafferty was to be released from prison on parole after serving 23 years in some of Australia's toughest jails, it sent a shock wave of outrage through the community.
McCafferty's crimes were immeasurable. To the friends and families of his victims there was no doubt that he deserved to die behind bars which was the recommendation by court-appointed psychiatrists at his trial.
But then the citizens breathed a sigh of relief when a further press release announced that McCafferty was to be deported back to the place of his birth, Scotland. Although Archie had lived in Australia most of his life, it appeared as though he had never taken the time to become an Australian citizen.
Much to the disgust of Scottish authorities, Australia's prison system had found a loophole to rid itself of one of the most vicious and troublesome killers in its history. But even back in his native Scotland Archie couldn't stay out of trouble and it wasn't long before he was back in the courts for breaking the law.