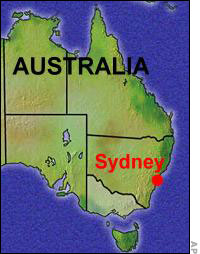 Map of Eastern Australia, with Sydney locator
Sydney, the early 1960s. Australia's largest city was under siege. A serial killer was on the loose. A homicidal maniac was luring his victims into dark places, violently stabbing them dozens of times about the head and neck with a long bladed knife and then mutilating their bodies in the most unimaginable manner.
Investigating police had no trouble in linking the murders to the same unknown psychopath, now dubbed "the Mutilator." The warped killer's crimes were easily recognized. His victims were always derelicts. All had been violently stabbed to death in a public place.
And in classic serial killer fashion their assassin had left his gruesome calling card: all of his victims had had their genitals removed.
But catching the Mutilator would prove to be no easy task. The fiend was as elusive as he was barbaric and when police finally got their man it was only a freak incident which became known world-wide as "The Case of the Walking Corpse" that brought him to justice.
And instead of apprehending a monster with bloodlust in his eyes and the disposition of a caged beast, police were astonished to find that the most barbaric serial killer in Australia's history was not remotely what they, or the general public, had imagined.